Malashock Dance Presents: YOUTH SHOWCASE

Ingram Plaza: ARTS DISTRICT Liberty Station
2640 Cushing Rd.
San Diego, CA   92106

SHOWCASE TICKETS

Tickets: $10/$5
Our Youth Showcase is an exciting performance opportunity for students and a way for us to share with family the accomplishments of our dancers.
Students have been practicing for months to put on a great show. We'd love to have you join us to celebrate their hard work.
Venue Information
The showcase is located at Ingram Plaza in Liberty Station. The day of our event San Diego Brewfest is also taking place so parking will not be available in the lots next to the venue. We recommend leaving plenty of time to park and walk from the lot at Dewey and Truxtun Road (approximately 3 blocks). Please use the map below or the address 2751 Dewey Rd, San Diego, CA 92106
FLOWER FUNDRAISER PRE-ORDER
Flowers will be available for sale at the venue. All proceeds benefit our non-profit organization's community outreach and artistic programs. 
The Basics:
Dancers should arrive at the stage with hair and makeup done by 3:30pm on 6/11/22. Please send your dancer with a snack and a water bottle.
Tech/Dress Rehearsal:

Dress rehearsal is the time that students get to practice their dances on the stage in their costumes. It can be disorienting to change the space in which your performing and costumes may make certain movements feel different or need minor adjustments (like making sure your skirt is out of the way when you stand up).
Dress Rehearsal is the time that allows dancers to work out any jitters about a new space and to work on anything that the costume may make feel different. It is VERY important.
Dress Rehearsal will be taking place during the students' regular class times the week leading up to the showcase. Please mark the week of June 6-11 as a week you must be at class.
Dancers will need to come to dress rehearsal "Show Ready" (with hair and makeup done) and with all parts of their costume, including undergarments and shoes on or ready to wear.
If your class is listed for Drop Off at the studio, please bring your costume to change into. If your class is listed for Drop Off At the Stage, please wear your costume and bring class clothes to change into when you're done.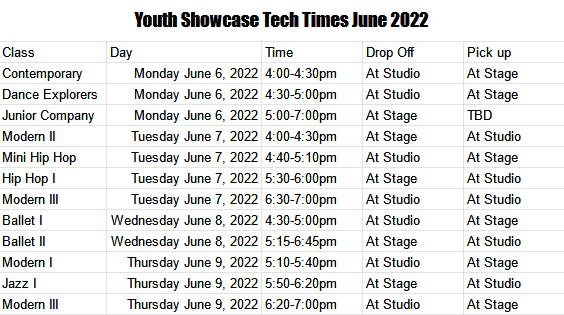 Costume Information:
Costumes will be tried on during class as they arrive. We have a parent who has volunteered to take care of any alterations needed.
Costumes will be sent home during the 1st week of June in a labeled garment bag with a list of the order in which costumes will be worn.
Students will be responsible for bringing all costume pieces, tights, shoes, and undergarments for Dress Rehearsal and the Showcase.
We strongly recommend hanging that garment bag in a closet and letting it be until dress rehearsal.
Do not play in costumes before the show to keep them looking great for the show!
Showcase Hair:
Hair should be pulled into a tight bun on the back of the head. Bangs should be pinned and hair sprayed back to stay out of the face.
Dancers with hair too short for a bun should pin or gel it back so it stays out of the face.
You can find tutorial videos on our showcase information webpage. Personalized hair kits are available from the office for $7.
Showcase Makeup:
Stage makeup is important to help the audience see the details of a dancers while they are performing. The distance from the stage and (often) the stage lighting contribute to a dancer's features being hard to see from the audience.
Dancers who prefer a feminine look should wear:
a brown "smokey eye" eye shadow
Winged eyeliner on the upper lash line & liner on the lower lash line
Mascara
Pink Blush
Red Lipstick
This makeup should be applied more heavily than you would for everyday wear.
Dancers who prefer a masculine look should wear:
Light eye shadow on the lid, with a darker brown shadow in the crease
eyeliner on the upper lash line
natural blush
lip liner/stick in a shade darker than their lips
Tutorials:

These tutorials offer tips for different eye shapes and skin tones. They often go above and beyond what we are asking for for this showcase. Focus mostly on the eye shadow application.
Need Help with Hair or Makeup?
We will be offering several 1 hour "open house" style help sessions. Drop in during the hour to get your questions answered or see a demo for hair and/or makeup for the showcase. Please sign up for the day you plan to come so we can plan appropriately. We recommend bringing you hair an makeup supplies to this session so you can practice and ask questions as you go. Come with your kiddo and practice on them or send your older kiddo to learn how to do their own hair and makeup!