Education Outreach Programs
Vision
The Malashock Dance School creates partnerships and programs that enhance the emotional, physical, and artistic development of thousands of children in our community each year. Our goal is to empower children through creativity and movement, creating great dancers and extraordinary people in the process.
History
Since its establishment in 1988, Malashock Dance has facilitated partnerships with over 25 schools and institutions and has served over 40,000 students in San Diego. Its unique in-school and after-school programs serve low-income communities and individuals with disabilities who lack access to free or low-cost arts programming.
Malashock Dance provides learning opportunities that strengthen students' ability to focus, collaborate, problem solve, and discover creative connections between academics and dance. Its cutting-edge programs are currently serving over 2,000 students, with an average of 85% low-income participants. The impact of these highly praised programs includes increased student test scores, student engagement, school attendance, and parent involvement. Malashock Dance is proud to provide programming specifically for students with cognitive disabilities.
Interested in Teaching Artist opportunities through Malashock Outreach Programs?
Email Nicole Diaz-Pellot, Outreach Coordinator [email protected]
Arts Integrated Residency Programs
Math in Motion
MATH IN MOTION is an innovative in-school program that integrates grade-level common core standards in math with California Visual and Performing Arts standards in dance. Students engage in high-level critical thinking and use innovative habits of mind to find ways to express mathematical concepts in the creation and performance of dance.
P.E. in Motion
P.E. IN MOTION integrates both the Physical Education Common Core Standards and the California VAPA Dance Standard. Carefully crafted lesson plans are vetted by Malashock Dance and focus on artistic development, social cooperation, critical thinking, and innovative problem solving.
Arts in Motion: Customized Residency
Malashock Dance will provide a customized residency program designed to fit a school's needs and desired outcomes. A professional Malashock Dance Teaching Artists or Company Member will teach weekly dance classes. Residency can include various dance styles such as Modern, Hip Hop, Ballet, Contemporary, or Arts Integration. Weekly classes are scheduled during school hours..
After School Program
During after-school hours, Malashock Dance Teaching Artist(s) can channel students' energy through enriching dance classes at your school. Class options include fitness-based dance classes, creative dance and choreography, or techniques such as Hip Hop, Jazz, and Contemporary/ Modern.
Dance with ThisABILITY
Malashock Dance facilitates Dance with ThisABILITY, a program where young adults are integrated into a professional dance environment at Dance Place San Diego. Malashock Dance teaching artists provide a weekly dance class that incorporates fine and gross motor skills, spatial awareness, musicality, self-expression through movement, and pattern sequencing into an upbeat instructional setting.
Approximately 40 young adults with varying physical and mental disabilities participate in year-round dance programming.
Dancers participate in enriching public performances that help extinguish stereotypes about people with disabilities.
The partnership helps create an inclusive dance culture that is representative of all people.
Professional Development Workshop for Classroom Teachers
Professional Development workshops equip classroom teachers the tools and confidence to conduct movement exercises in class and/or facilitate classes based on lesson plans provided in the workshop. With quality instruction from experienced dance teachers, teachers will learn the foundations of dance vocabulary.
Field Trip
Option A) Attend a private professional performance by Malashock Dance Company with Q&A with dancers/choreographers. Students will experience a unique opportunity to view a Malashock Dance Company production in a dedicated venue with only students in the audience.
Option B) Attend an open rehearsal with the Malashock Dance Company with Q&A with dancers/choreographers. Students will experience a unique opportunity to view the "behind the scenes process illuminating how dance is created, refined, and performed.
*The school is responsible for transportation. Field trips must be reserved and scheduled during the Company's regular season performance schedule.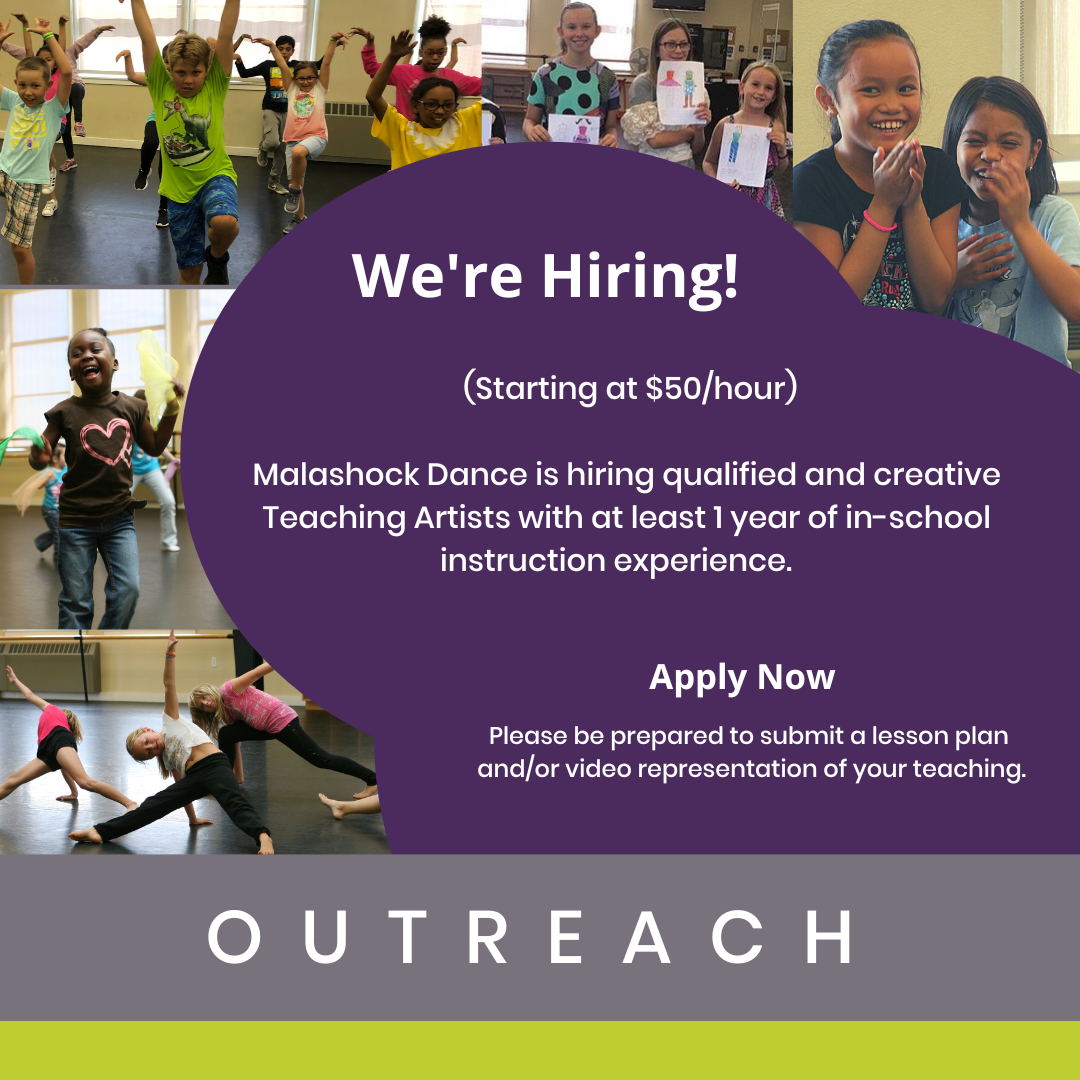 AS A OUTREACH TEACHING ARTIST FOR MALASHOCK DANCE
Empower and motivate through creativity and movement.
Enrich the lives of enthusiastic students, eager to learn.
Enhance the emotional, physical, and artistic development of children in our community!
Malashock Dance has identified the need for free or low-cost dance programming based on the socio-economic barriers that effect parents' ability to pay for dance class tuition, the absence of dance programming in schools, the limited number of private dance studios in low income areas, and a lack of participation in physical activities by children (especially children with disabilities).
According to San Diego Unified School District's demographic profiles, nearly 95% of students participating in Malashock Dance Education Outreach programming qualify for free or reduced-price meals and approximately 12% have Individual Education Plans (IEP) due to developmental disabilities. Over 70% of the students participating in Malashock Dance Education Outreach programming are minorities.
The San Diego Unified School District has made approximately $5 million in reductions to the budget over the past five years. As a result, many in-school arts programs have been eliminated. Malashock Dance is capable of meeting this need by combining resources while drawing on community support for innovative programming.
Malashock Dance has also identified the need for increased physical activity in order to address the increasing rates of childhood obesity in San Diego. Approximately 20.4% of children ages 5-20 were overweight in San Diego in 2002, which is an increase of 55% from 1992 (Pediatric Nutrition Survey for California and San Diego, 2002). Due to reductions to the San Diego Unified School District budget, many schools have eliminated Physical Education instructors, which resulted in less physical activity for students. Standards-based learning in dance addresses the need for moderate to vigorous physical activity which will dramatically reduce the risk of childhood obesity.
Malashock Dance addresses a need for hands-on learning opportunities seldom incorporated into traditional school instruction. Often, hidden strengths and leadership qualities surface during creative activities like dance class and allow unlikely students the opportunity to shine.
Check out a schedule of our upcoming performances and events.