Weekly Adult Dance Classes
First Class Free! Use Code NEW21 at checkout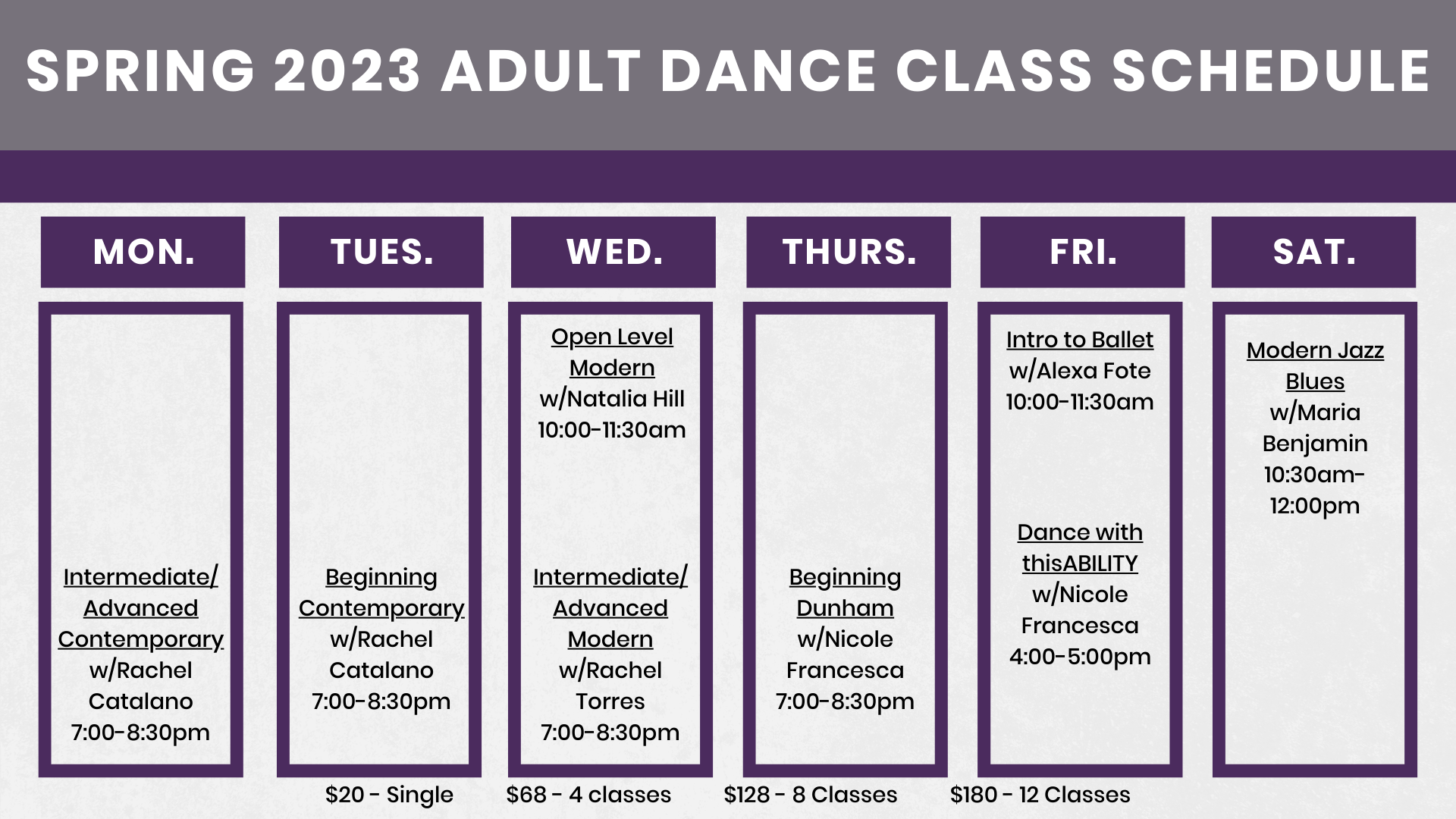 To use an already purchased class credit –
1. Log into Classbug
2. Use the toggle in the upper right corder of the screen to switch to calendar view
3. Select the class you want to attend
4. Select the blue "Redeem" button
Adult Dance Class Descriptions
Interemediate/Advanced Contemporary & Floorwork
Mondays 7:00-8:30pm
with Rachel Catalano
Rachel Catalano brings years of teaching experience to Adult Contemporary. At the core of her teaching is the belief that the most profound impact you can have on someone's life is to make them feel understood and that art is the vehicle to that. As a result, this athletic, well-rounded class utilizes self-discovery and improvisation to help movers feel comfortable in class. This is an active class that involves moving in and out of the floor on a regular basis. Modifications are always available and questions are a welcome part of class.
Beginning Contemporary
Tuesdays 7:00-8:30pm 
with Rachel Catalano
Open Modern
Wednesdays 10:00-11:30am
with Natalia Hill
Natalia teaches a technique-based class that combines the linear, athletic movement of the Horton technique with the sustained, exploding movement quality of Ballet and Release techniques to refine a graceful, strong, and artistic dancer. By connecting with each dancer through encouragement and individualized direction we are able to evolve from being just a dancer to a community of Artists. I can't wait to move with you and share a mutual love for art, music, and dance.
Intermediate/Advanced Modern
Wednesdays 7:00-8:30pm
with Rachel Torres
Rachel's class consists of a full-body warm-up, technical center work covering a variety of styles including fall/release movement style with swings and under/over curves and sharp/angular movement style with flat backs and laterals, and expansive movements and jumps/turns across the floor the class will conclude with a segment of choreography that will give dancers an opportunity to explore musicality and give them some artistic freedom. Rachel welcomes questions and modifications will always be available in a judgment-free, non-competitive environment.
Beginning Dunham Technique
Thursdays 7:00-8:30pm
with Nicole Francesca
Dunham Technique is a vibrant African American dance form that engages the body, mind and spirit! Created by dance pioneer Katherine Dunham, the technique is informed by the traditional dances of the African Diaspora, as well as by modern and ballet. Dunham Technique creates strong, dynamic dancers who embody rhythm and grace. Classes will offer a variety of experiences, including breathing, isolations, floor work, barre work and progressions across the floor. 
Introduction to Ballet
Fridays 10:00-11:30am
with Alexa Fote
In Introduction to Ballet we will work on the fundamentals of Ballet through barre and center work focusing on alignment and artistry. If you're looking for a way to improve your posture and understand your body join us for this session.
Modern Jazz Blues
Saturdays 10:30am-12:00pm
with Maria Benjamin
This is a lyrical Jazz class that's a fusion of Horton, Graham, Limon, Afro, Gospel, Blues, and Ballet. It focuses on and builds musicality, technique, strength and expression. We start with three warmups set to contemporary music, an adagio, and then going across the floor, in order to prepare the body for choreography. The choreography will vary every one or two weeks, but will always be music driven and soulful. This class requires some prior dance training, but frequent attendance will help the dancer become stronger and improve their technique. The most important thing in this class is for students to use the space to move, express themselves through the choreography, and feel their spirits soar.
Dance With thisABILITY
Fridays 4:00-5:00pm
with Nicole Francesca

DWTA is an upbeat, energetic dance class designed to be accessible for dancers with disabilities ages 12+. The class follows a similar structure each week with a warm-up, then around the room and across the floor movement, and ends with learning phrases and combinations. Movements and combinations are designed to accommodate dancers who may struggle with balance and coordination and alternatives to any movement are always available. Students from this class have been involved with Jason Mraz Foundation's Shine Performance
Check out a schedule of our upcoming performances and events.